"I have always been a dreamer. While envisioning The Chocolate Dreamer, I wanted to design beautiful specialty chocolates that would reach the inner child. I have been told that I have managed to create a luxury chocolate gift that becomes a thrilling event when it is being opened. I invite you into my world to experience your very own personal chocolate dreams."

Sincerely, Felicia



In the northern reaches of Westchester County, New York, lives a woman named Felicia who has a dream – a chocolate dream. Felicia lives and breathes chocolate.
Felicia has spent years developing a unique personal aesthetic: romantic, sensuous, luxury-heightened. While taking time off to raise a child, she "apprenticed" herself to a friend and mentor who opened up the world of chocolate for her. Felicia had found her métier. She then trained at The French Culinary Institute to complete her education.
Her vision has now become a reality. Her aesthetic has come to full fruition.
She has become The Chocolate Dreamer.

What is so special about the products?
The Recipe
The Chocolate Dreamer uses its own proprietary recipes for dark chocolate and white chocolate (both available in sugar-free versions with no diminution in taste!) to ensure that the recipient enjoys a luxury chocolate gift that's the opposite of the austere, bitter snaps that dominate the "designer chocolate" field. Instead, The Chocolate Dreamer offers pure, sybaritic indulgence: luscious, soft, sensual chocolates – the dessert equivalent of a feather bed.
Hand-Painting
Yes, that's right – hand-painting. The Chocolate Dreamer gilds, dusts, and paints whimsically shaped specialty chocolates using an esthetic never before applied to comestibles. The look cannot be achieved by technology. Only with meticulous artisanship can The Chocolate Dreamer's trademark luster and romance be attained.
Packaging
It's true, all luxury chocolatiers package their products to appeal to the eye. But The Chocolate Dreamer's packaging appeals to all the senses. From keepsake custom-designed boxes, to woven and hemmed napkins, to little poems printed on scrolled parchment, to the softest satin and organza ribbons, every element of the packaging contains a little surprise for the recipient. Opening a luxury chocolate gift from The Chocolate Dreamer is almost as thrilling as eating it.

Service
We're fanatics.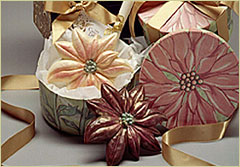 We are finicky beyond belief. We drive people crazy with the amount of attention we devote to the tiniest details, all simply because we care.
We care about how your friends and clients see you. We care about how you see The Chocolate Dreamer.
That's why the president and founder of the company will handle your orders herself.
Felicia will apply her creative spirit (and maniacal attention) to the task of ensuring that your corporate chocolate gift, or chocolate wedding favor, or Hanukka chocolate, packs a punch that will be remembered.
Every gift from The Chocolate Dreamer makes a strong visual and taste impact. The individual who receives this specialty chocolate (or Brownies Made By Angels, or Sarah Bernhadts) will realize immediately that the giver has gone out of her way to select a gift from an artisan. These hand-crafted luxury chocolate gifts represent sophistication and romance. They send a message that you have a high opinion of the recipient – that you think of them as a kindred spirit.
When you deal with The Chocolate Dreamer, you get a level of customer service and dedication that's a throwback to another era.